CrowdStrike Named a Leader that "Delivers World-Class Threat Intelligence" in 2023 Forrester Wave
We're excited to share that Forrester has named CrowdStrike a Leader in The Forrester Wave™: External Threat Intelligence Services Providers, Q3 2023. CrowdStrike received the highest ranking of all vendors in the Current Offering category, with the highest score possible in 16 criteria, surpassing all other vendors evaluated in the report.   From the report: "CrowdStrike […]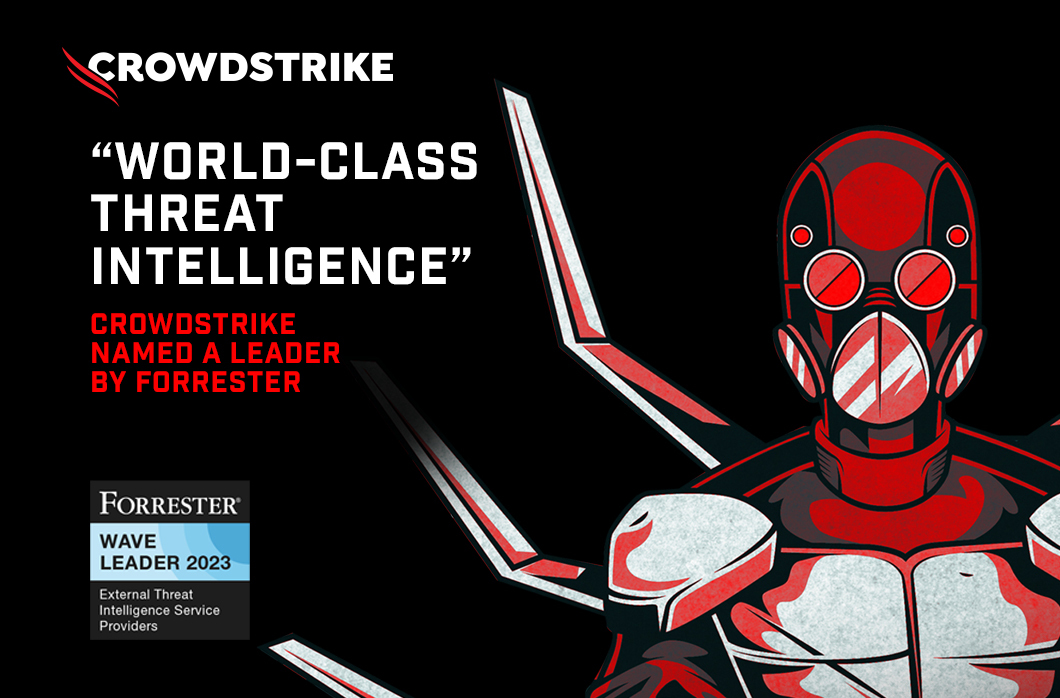 We're excited to share that Forrester has named CrowdStrike a Leader in The Forrester Wave

: External Threat Intelligence Services Providers, Q3 2023. CrowdStrike received the highest ranking of all vendors in the Current Offering category, with the highest score possible in 16 criteria, surpassing all other vendors evaluated in the report.
From the report: "CrowdStrike delivers world-class threat intelligence to power its Falcon platform. CrowdStrike Falcon Intelligence enables an extensive set of threat intelligence use cases integrated into the CrowdStrike Falcon platform … CrowdStrike Falcon Intelligence is a comprehensive solution that firms should consider for an overall threat intelligence program even if they are not using the vendor's EDR tools."
This recognition is the latest in a string of industry accolades for CrowdStrike Falcon Intelligence. In February 2023, CrowdStrike earned Frost & Sullivan's Global Company of the Year Award in Cyber Threat Intelligence. We were also named a Leader in the Frost Radar for Cyber Threat Intelligence. In 2022, CrowdStrike was named a Leader in the 2022 SPARK Matrix for Digital Threat Intelligence Management by Quadrant Knowledge Solutions.
CrowdStrike Falcon Intelligence Leads the Pack
CrowdStrike is globally known as a leader in cloud-delivered protection of endpoints, cloud workloads, identity and data — and our highly differentiated threat intelligence offerings are the foundation of our ability to stop breaches. Without a deep, robust understanding of the adversary and their tactics and tools, you can't stop emerging attacks.

Here are three distinctive areas that set Falcon Intelligence apart:
Our intelligence starts with global data collection
CrowdStrike's intelligence collection strategy is a critical differentiator: The Falcon platform regularly collects trillions of events every day, powering the protection of millions of endpoints across the globe and providing real-time visibility into attacks, including zero-days.
In its report, Forrester states: "CrowdStrike supplements traditional public open sources and underground sources of intelligence with telemetry from its established Falcon platform customer base, lessons learned from 500-plus incident response engagements and experience gained by the Falcon OverWatch threat hunting teams."
CrowdStrike's comprehensive collection strategy — with the Falcon platform telemetry at its core — underscores our ability to collect data that no one else can, resulting in threat intelligence that no other vendor can provide.
We provide relevant, timely intelligence at your fingertips
To be actionable, threat intelligence must be presented in context and easily accessible within a security team's daily workflow. Intelligence is at the heart of the Falcon platform and enriches the modules we deliver across endpoint, cloud security, identity protection and more.
With the best threat intelligence at its foundation, the Falcon platform helps customers move faster than the adversary with rapid and precise detections, investigations and response. As new threats are uncovered, the intelligence is fed back into the platform, strengthening its ability to stop breaches. Endpoint security and XDR tools that lack leading intelligence capabilities, such as Microsoft Defender and SentinelOne, can leave customers exposed to new adversary tradecraft.
We offer industry-leading expertise
We enhance our threat intelligence with services that provide access to the CrowdStrike Intelligence Customer Operations team. Our staff of seasoned intelligence analysts has unsurpassed expertise in battling nation-state, eCrime and hacktivist adversaries.
Assigned analysts work directly with the customer and are dedicated to learning the unique security challenges each organization faces. This understanding enables our analysts to help apply threat intelligence more effectively and defeat the adversaries targeting the organization.
Adversaries Don't Stand a Chance
You don't have a malware problem, you have an adversary problem. Whether it's ransomware or a new vulnerability exploit, there's a human element behind every attack. This human adversary is the real threat.

It was with this belief that CrowdStrike pioneered adversary intelligence. This intelligence is woven deeply into the Falcon platform and enriches everything we do. It's derived from our world-class threat researchers and the firsthand experience of our threat hunters and professional services teams.
CrowdStrike's deep adversary knowledge, expertise in pursuing and stopping threats, and visibility derived from the Falcon platform make us uniquely qualified to deliver the most effective means of stopping breaches and protecting customers.

Start Your Threat Intelligence Journey
Building a threat intelligence practice is a journey. It's critical to find a vendor that aligns with your definition of intelligence, supports you on your journey and provides room for your team to grow.
Further, they should challenge you to take the next step into a new use case so you can better protect your business. CrowdStrike Falcon Intelligence is designed to meet you where you are on your threat intelligence journey. It's built directly into the platform, supporting your daily workflow by providing detection context and defensive strategies at your fingertips. If you are not a Falcon platform customer, CrowdStrike Falcon Intelligence is also available separately, cloud-delivered and operational on day one.

We agree with Forrester when it says "external cyber threat intelligence is necessary for effective cyber security." CrowdStrike Falcon Intelligence enables all organizations, regardless of size or expertise, to easily operationalize intelligence within the security operations center, gain visibility into the cybercriminal underground to protect their brand and executives, and receive best-of-breed intelligence reporting and technical analysis backed by a dedicated team of intelligence professionals.

The CrowdStrike Falcon Intelligence modules include:
Additional Resources