AI, Cloud, Mobile and Reality Fuel Advances in Telemedicine 
By Scott Lundstrom, Analyst, Supply Chain Futures.   The move to telemedicine and remote health has been dramatically accelerated in the wake of Covid-19. Issues that have delayed deployments for years are crumbling under the weight of pragmatic risk management for providers and patients as we try to come to grips with the pandemic. Issues around reimbursement, privacy, […]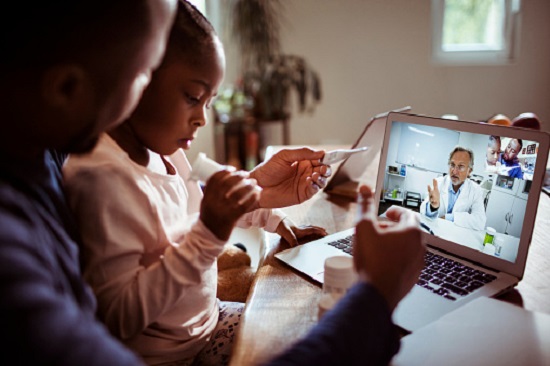 By Scott Lundstrom, Analyst, Supply Chain Futures.  
The move to telemedicine and remote health has been dramatically accelerated in the wake of Covid-19. Issues that have delayed deployments for years are crumbling under the weight of pragmatic risk management for providers and patients as we try to come to grips with the pandemic. Issues around reimbursement, privacy, and parochial practice management have quickly been sidelined as both patients and providers try to craft a safer model for the delivery of patient care. This is both good practice and good business. Providers must try to find a way to more safely engage with patients if they hope to return to the pre-Covid volume of patients seeking health maintenance and elective procedures.   
In addition to pandemic pressures, the Office of the National Coordinator for Health Information's (ONC) 21s Century Cures Act requires that providers and payers add significant new digital interaction requirements for their patients. This rule requires that a wealth of data, including most clinical notes and electronic health information must be shared with patients on demand for free. The act specifically requires that this data be available to a patient's 3rd party application on a smartphone by May of 2022. This act is fueling a renewed focus on digital engagement with patients and rapid adoption of the HL7 FHIR (Fast Healthcare Interoperability Resources) standard.  
These market realities are fueling investment in what is quickly becoming known as the "Digital Front Door." Providers are trying to create digital patient engagement to manage the actual interaction with patients by providers and clinical staff. Electronic scheduling of physical visits and tests, digital patient meetings, and remote telemedicine visits are all a priority now as we try to re-engage patients in their everyday preventive care and wellness. Cloud-based systems, mobile device support and AI are all fueling this change, and the technology is moving rapidly to fill these new requirements.  
When considering the impact of these forces it is important to understand the requirements and technologies that will drive and enable these changes. For healthcare technology customers and suppliers, the follow capabilities will be important components of a successful solution  
Components of Successful Healthcare Technology Solutions  
Intelligent scheduling: The ability to establish an appointment quickly and easily is a critical first requirement. This must be done simply via a mobile app. Cloud and analytics will play a key role here as sometimes complex combinations of staff, equipment, and facilities will need to be scheduled and reserved for the patient in a short window of time.  
Natural language processing: Intelligent customer support in the form of chatbots utilizing natural language processing will be essential. Patients that require support for languages beyond English, and elderly or disabled patients will need additional assistance to be successful in moving to a digital platform for patient engagement.  
Image analytics and video conferencing: Video conferencing is at the heart of the virtual visit. Managing the meeting as an actual patient visit where we capture essential information and create a record of the encounter goes well beyond the capability of simple video conferencing. AI and video analytics will become an important part of adding these enhanced capabilities. In addition, digital imaging has become an important part of the visit, especially for conditions with visible symptoms like wound care and dermatology.  
Real time claim adjudication: Having a digital record of the visit, coupled with AI and FHIR integration, should allow more real time claim adjudication between providers and payers. Payers can reduce the expensive denial management process, and providers can experience more efficient reimbursements as shared information requirements are developed to improve integration between parties in the healthcare supply chain.  
Internet of Medical Things (IoMT) devices and enhanced patient monitoring: There is an increasing number of new applications for patient wearables in monitoring disease. Real data from the patient on a 7×24 basis can quicken and improve the diagnostic process for a number of patient issues. A cloud-based system that collects and evaluates this data on a regular, automated basis will improve the care plan for many patients suffering from infrequent and difficult to diagnose symptoms, as well as patients suffering from chronic diseases.   
AI and automated machine learning (AutoML): More data creates more opportunities to improve practice and process with AI and AutoML. Best practices for remote care management and delivery can be more rapidly discovered, and medical errors can be more quickly detected. Changes to adopt new standards of care can be more quickly implemented and variability in care plans can be evaluated and if appropriate, changed to improve patient outcomes and reduce costs.  
Follow up and continuity of care: Automated validation and checking of care plans provided by AI and ML can reduce the number of patients that fall through the cracks in complex multi-party care plans. This will help to improve patient outcomes and provider revenues as well as reduce liabilities for omissions and obvious gaps in care.  
Improved patient experience, Anytime/Anywhere care: Patients have been overwhelmingly positive in their reviews of their experiences with virtual visits. They are clear in their comments about increased satisfaction with the timeliness, ease and physical safety of virtual visits. 
For providers and payers this should be a wake-up call. These capabilities are quickly becoming table stakes in highly competitive markets. Suppliers are rushing to bring new capabilities to market and investors are funding a record number of companies in the telemedicine/telehealth market and driving rapid increases in M&A and new product launches.   
Scott Lundstrom is an analyst focused on the intersection of AI, IoT and Supply Chains. See his blog at Supply Chain Futures.